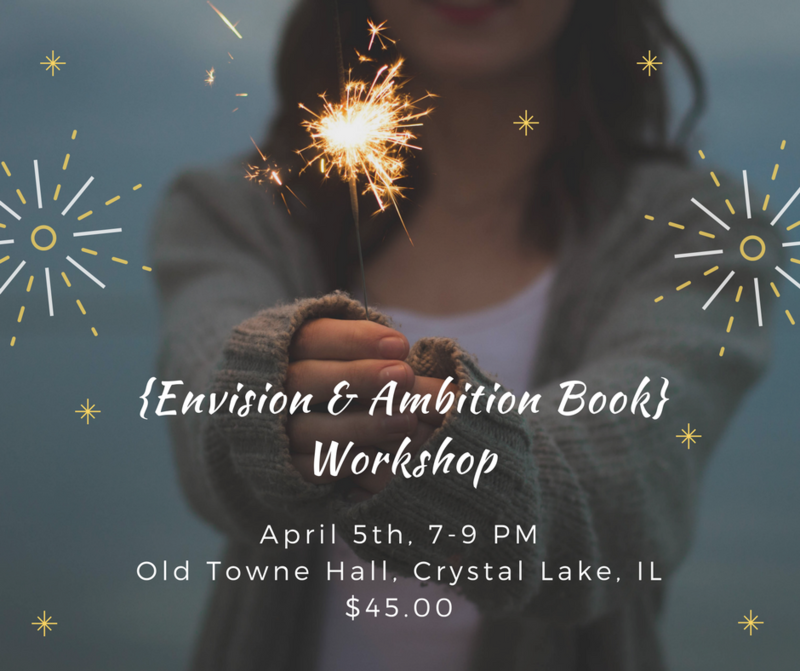 Envision & Ambition Book Workshop
So many women love my "gifts that high-five the soul" and I am SO excited to announce that I am launching workshops designed to "high-five the soul" as well! (A dream come true for me!)
You've heard of a "vision board workshop"?
Well… because I always do things with my unique & creative spin, this first workshop will be an "Envision & Ambition Book Workshop" to help YOU envision, identify & clarify what YOU want & need to re-ignite YOUR spark and live the kick-ass, fun & soul-nourishing life you deserve-
What makes this unique is that while drinking champagne (or any drink that makes you happy) eating delicious savory & sweet snacks, and being with other women excited about "rocking THEIR best lives", we'll be creating custom "Envision & Ambition Books" that will help give you "an extra boost of...intention, empowerment, comfort, faith, inspiration, sass, moxie, luxury, self-care, etc." you are craving!
Anyone that knows me, knows that I've been doing these portable & interchangeable mini books for years and they've had a profound impact on me! And because we're always evolving, the unique format changes & evolves with you! Everything is interchangeable & customizable to what you want that day, week, season, year, life! (I have some pictures of mine in the comments)
This is for women that:
* Want to reset & recharge their life
* Want to live life to the fullest
* Want to life more intentionally
* Want to be around other like minded positive women
* Want to stop settling
* Don't mind the "F-word" or other empowering colorful language
;)
This is the first of a series of unique workshops I'll be hosting. I will also be bringing in amazing resources I find to host additional workshops each month including:
* Shit Day to Namaste – We won't be doing actual yoga, but I have THE best resource to help us learn how to thrive despite negativity around us and give less f*cks!
* Dishing Up Memories - Cooking 3 dishes your family/kids will love, remember and always request!
* How to stop Undervaluing what you are and Overvaluing what you're not!
* How to stop settling and go for and demand what you deserve!
AND when I hear what else you're looking to learn more about and experience, I will scour Chicagoland for THE best experts & resources to help you/us at additional workshops.
To give yourself "an extra boost of... what you're looking for" to recharge & reveal the life you're yearning for, the investment is $45.00. This includes drinks, snacks, supplies and an "Envision & Ambition Album" you'll leave with - that you can keep in your purse, car, home, etc. to start inspiring you immediately and remind you of the life you want! AND a new group of like minded women who are ready to rock this world and their lives with you!
The date is Thursday, April 5th from 7-9 at the very cool & historical (like a secret hideout) Old Towne Hall in downtown Crystal Lake.
FAQ's
Q. Do you offer refunds?
A.
Refund requests received by April 3rd, 2018 will be assessed a $10.00 processing fee with the balance refunded by check. Refund, cancellations or no shows for the workshop received after April 3rd, will not be refunded.  OR the fee may be used towards future workshops.