"Warm Embrace" Cozy Wrap {F*CK Cancer, We'll Beat This Together!}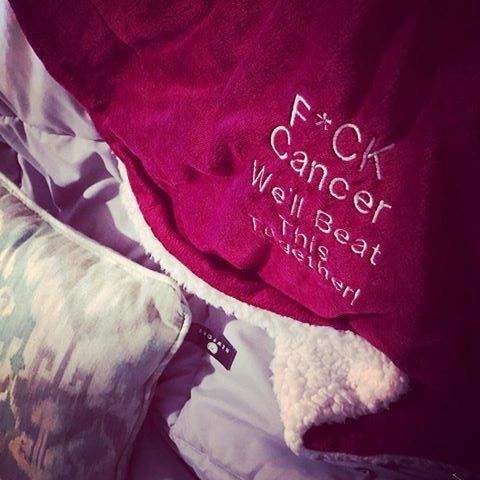 "Warm Embrace" Cozy Wrap {F*CK Cancer, We'll Beat This Together!}
"Your wonderful wrap arrived and was delivered to my friend yesterday-she loved it-and good timing-as the weather here is freezing! Thank you so much. Especially now, for her, the company and help has left, the major recovery over, but she still has months left of recovery left and I think is feeling a little alone. So, PERFECT!"
– Dana, California
Sometimes we feel helpless when someone we care about is going through a challenging time, OR there's someone else that we want to "Wrap In Love" and can't be there to do always do that in person, OR there's someone who's empowered (like I was) by saying F*CK CANCER!

I created these "warm embraces" (25″ x 60″) because I want people to have a gift to give to those they care about so they're always reminded that they're loved, supported and not alone!!!
This idea came from my "breast cancer adventure" in 2013. When I had my double mastectomy and chemo, I received SO many nice gifts, prayer shawls and cozy blankets. I loved them all and appreciated the generosity of friends and family, but, some were too big and bulky to bring to the hospital or chemo lounge, others were not machine washable, and some were not very soft on extra sensitive skin. So, I was inspired to combine the best of each into one cozy "warm embrace" with sentiments to help the recipient lift their spirits and give them "an extra boost"! They can always be reminded when they see the quote embroidered on the corner…
A perfect gift for someone (adult or child) who:
• has cancer or is sick
• loves warmth and coziness
• is sad, or going through a breakup or divorce
• is dealing with depression/anxiety
• is alone, lonely or away from loved ones
• has a loved one away serving our country
• misses a parent traveling for business
• is loved!
One side is a luxurious faux Micro Mink; the other side, a cozy faux lambswool Sherpa. And it's machine-washable & dry (which is especially important after using it in a hospital or chemo lounge!)
Reviews